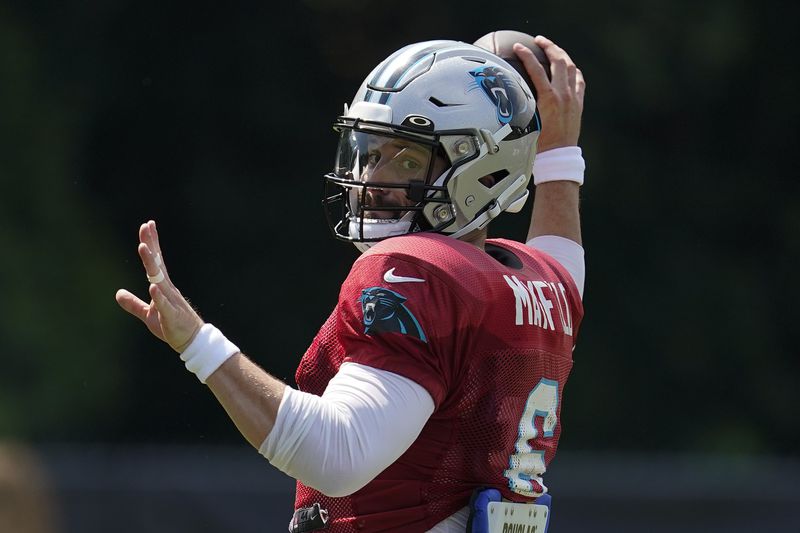 Baker Mayfield has finally, officially been named as the starting quarterback for the Carolina Panthers ahead of San Darnold.
Baker Mayfield (27) was traded to Carolina from Cleveland in July as the Browns pursued Deshaun Watson.
This is Mayfield's chance to prove that he can still be a franchise quarterback. 2021 recruit Sam Darnold has failed to meet expectations in Carolina, so both Mayfield and the franchise benefit from the trade.
"When we started this process, we were looking at three things," head coach Matt Rhule said.
Want $250 to bet on NFL futures?
Sign up here!
"No. 1, mastery of the offense, No. 2, situational football excellence, and No. 3, moving the ball and getting guys involved. That's been our focus all along.
"Baker has made a lot of improvement, a lot of growth in all three areas in a short amount of time."
"Obviously, Sam and I knew this day was gonna eventually come," Mayfield said. "But, we weren't counting down the days, we didn't know when it was gonna happen or anything like that. Just this morning, I was made aware I was going to be starting. Saw Sam shortly after and he made it very clear that anything I needed in support or in terms of that aspect, he was gonna be there. 
That just shows what kind of team guy he is. Honestly, just an unfortunate circumstance that we're both here in the same year, fighting for a job, but that's the kind of guy he is.
"I truly, truly appreciate that and he's a great guy."
Read:
Packers Need Aaron Rodgers, Receivers To Figure It Out
"All along, we've felt like we need to have a really strong quarterback room, and have every quarterback ready to play," Rhule said. "The reality of this league is most teams will play multiple quarterbacks. Sam has worked incredibly hard, played really well for us during training camp, and will be ready to go if and when it's needed."