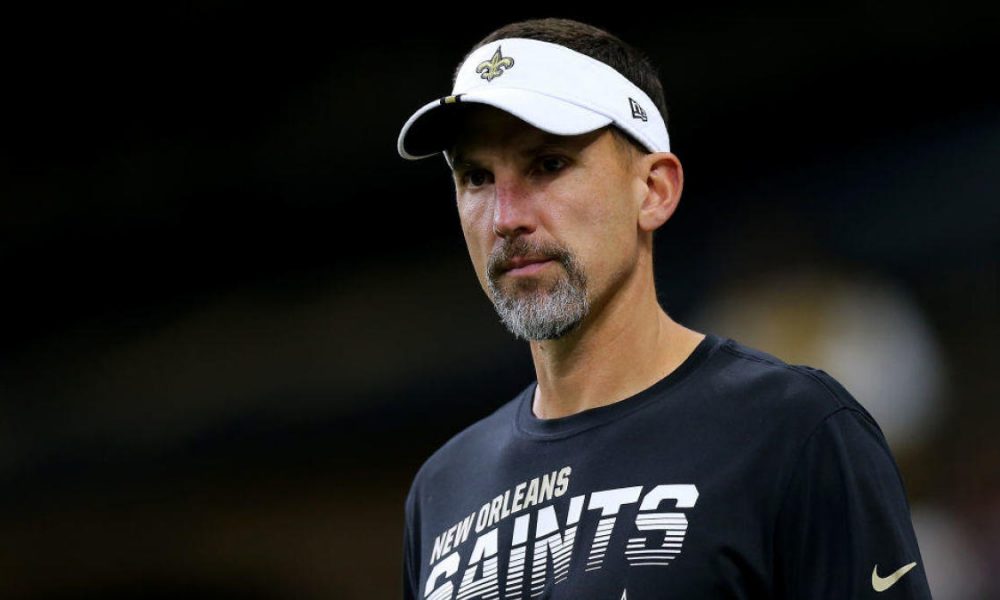 NEW ORLEANS, LOUISIANA – AUGUST 29: Defensive coordinator Dennis Allen of the New Orleans Saints reacts before an NFL preseason game against the Miami Dolphins at the Mercedes Benz Superdome on August 29, 2019 in New Orleans, Louisiana. (Photo by Jonathan Bachman/Getty Images)
New Orleans Saints quarterback Jameis Winston is returning from a torn ACL, and the prognosis is improving by the day.
Don't sleep on the New Orleans Saints. And don't forget about Jameis Winston.
After sitting behind Drew Brees in 2020, Winston got his shot as the Saints' starting quarterback last season and started the campaign well. New Orleans went 5-2 while Winston threw for 1,170 yards with 14 touchdowns against only three interceptions. Then, in Week 7, it came crashing down. Against the Tampa Bay Buccaneers at the Mercedes-Benz Superdome, Winston suffered a torn ACL. Season over.
Despite losing Winston — and being stuck with the combination of Taysom Hill and Trevor Siemian under center, along with one game of Ian Book — New Orleans finished 9-8 and barely missed the NFC playoffs.
Now, with a much-improved roster featuring the additions of receivers Jarvis Landry and Chris Olave, and safeties Tyrann Mathieu and Marcus Maye, the Saints have an opportunity to get back into the postseason and make noise.
To do so, though, Winston must be healthy. And with his positive progression each day,  it appears he'll be ready for Week 1 when New Orleans visits the Atlanta Falcons. In fact, Winston wants to play this week in the team's final preseason game, per ESPN:
"I would love to play. Just in terms of, if I can get out there where the bullets are really flying, get out there and compete with the guys. I love the preseason experience, just to get a chance to look in everybody's eyes, dap everybody up and really get that whole holistic team-bonding part in the beginning of the game. That's one of my favorite parts of football, just that pre-battle moment."
Regardless of whether Winston sees any preseason snaps, his ability to get on the field for the regular season is monumental. New Orleans faces a slate of winnable games to start, including dates with the Carolina Panthers, Minnesota Vikings, Seattle Seahawks and the aforementioned Falcons in the first five weeks. There's also a Week 2 matchup with the Buccaneers, which could set the tone early on for the NFC South.
In a year where so many have discarded New Orleans' hopes, the Saints should have such a feeling internally if Winston is able-bodied. The roster is improved, the conference is worse and the division features two bad clubs and another old one.
Don't discount the Saints, and don't forget about their quarterback.