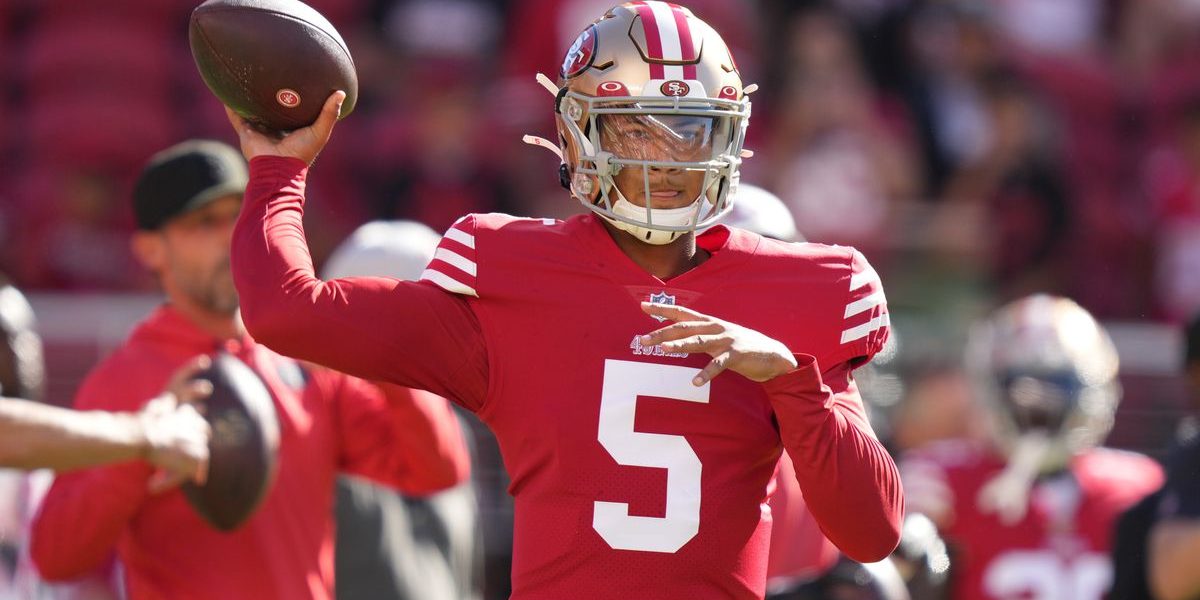 The 49ers are confident their strong roster will be able to take the pressure off new starting quarterback Trey Lance.
The question of who starts under center for an NFL team quickly becomes existential. Particularly in preseason, when the role is up for grabs. Particularly for San Francisco, who seemingly took an age to move on from Jimmy Garoppolo.
Usually, a young quarterback plays his first starting season for a down-on-their-luck team with little expectation, but not Trey Lance.
Trey Lance is the first quarterback to be picked higher than No.25 by a team that reached the Super Bowl the previous season.
Want $250 to bet on NFL futures?
Sign up here!
Lance's teammates say their job is to eliminate the requirement for Lance to do it all. Head coach Kyle Shanahan says they're in an ideal position to transition to a young quarterback.
"I feel as good about our roster as I have," Shanahan said. "I think our team's in a great spot to turn it over to a quarterback who hasn't played before."
"I think he's in probably the best position you could be in as a first-year quarterback with a defense like us and a good O-line and a bunch of weapons," defensive end Nick Bosa said.
 "He's got all the help he needs … I think if he doesn't make big mistakes, then we're going to be in good shape."
Read:
Detroit Lions Hold Player-Lead Practice With Dan Campbell's Permission
"New wrinkles isn't the problem with him," Shanahan said. "Trey can do anything, but what's going to be his best stuff, and that's [something] I don't have the answer to yet. And I'll have a much better idea at the end of camp, but I still won't have the answer. That will go throughout the year and that's always evolving."