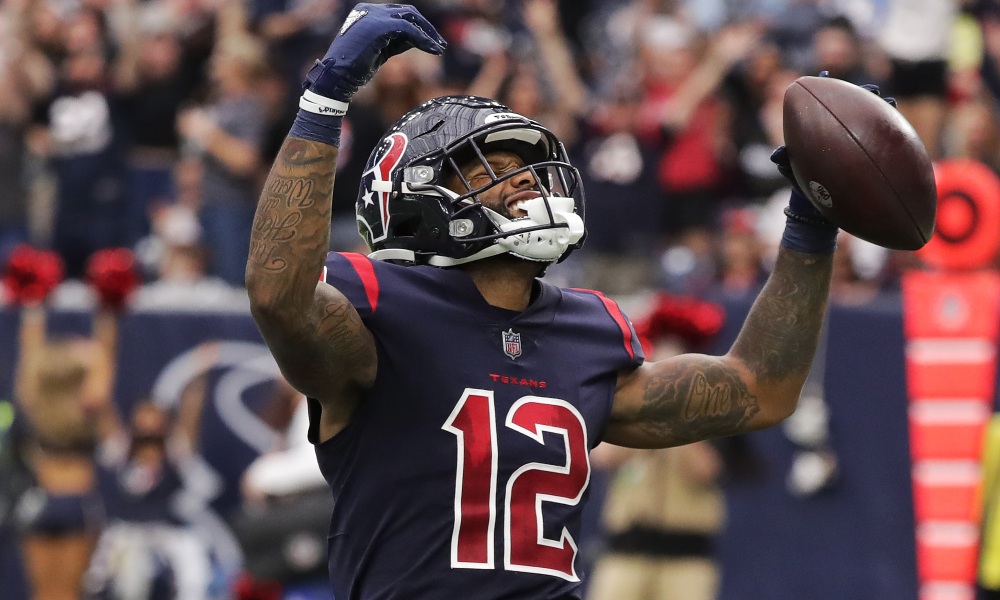 Houston Texans wide receiver Nico Collins has caught the eye so far in preseason, and his coach is excited.
Nico Collins pulled off an athletic touchdown grab against the Rams on Friday night. It was similarly impressive to his 13-yard TD catch in last season's comeback against the Chargers.
It's moments like these from the 2nd year Nico Collins which show he's maturing into a big-game player.
"Nico's a big target with a lot of talent," said Texans coach Lovie Smith.
Want $250 to bet on NFL futures?
Sign up now! 
"We want to get him in those type of situations. We continue to run the ball well. If we run the ball well, we'll get more one-on-one situations for Nico. As I say, he's got length, he can catch the ball. It's a big play by him there. He's capable of making a lot of plays like that."
In his rookie year, Collins had 33 receptions for 446 yards and a TD in 14 games (8 starts). As well as progressing physically, the 23-year-old is progressing mentally. His development hasn't been lost on his teammates either, as QB Davis Mills points out.
"He's been great," said Mills. "The biggest growth I think is probably off the field, how much he's matured since he's been here and his work ethic."
Read:
Cleveland Browns Putting Their Faith In Jacoby Brissett?
"Just really going to work each day, trying to be the best player he can be. He's really been doing that. I think he's taking a big jump from even last year when he was playing really good football. We're excited to see what he can do. When he's matched up, especially on one-on-one situations, he's going to be tough to cover."