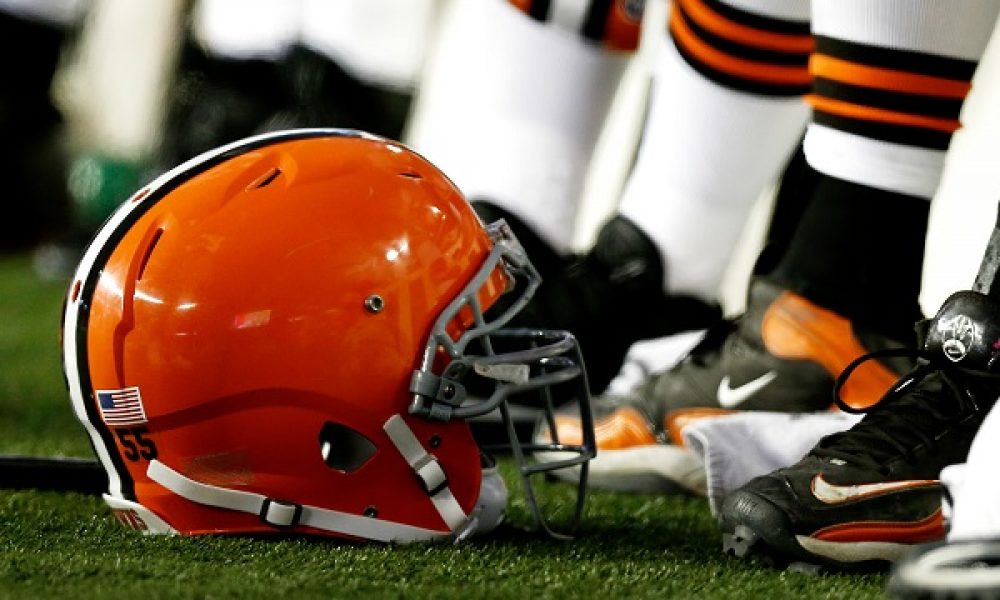 Dec 8, 2013; Foxborough, MA, USA; A Cleveland Browns helmet sits on the sidelines during the fourth quarter of New England's 27-26 win at Gillette Stadium. Mandatory Credit: Winslow Townson-USA TODAY Sports
With Deshaun Watson suspended for the first 11 games of the season, the Cleveland Browns are relying on Jacoby Brissett to keep hope alive.
The Cleveland Browns now understand the situation.
Deshaun Watson isn't playing until Week 13. Without their starting quarterback, it's either play Jacoby Brissett or trade for Jimmy Garoppolo. Everything else is a pipe dream.
So far, it sounds like Cleveland is going with the former option. Brissett has bounced around the league in his seven-year career, starting with the New England Patriots before going to the Indianapolis Colts, where he started 30 games across four seasons. In 2021, Brissett was Tua Tagovailoa's backup, playing in 11 games and starting five.
Now, Brissett is in Cleveland, where he has been thrust into a prominent role with Watson banned until December. For his part, head coach Kevin Stefanski believes in Brissett, stating how much Brissett's professionalism matters. Per ESPN:
"I think back to when we were acquiring Jacoby, and just the phone calls that I made to people who he has played for and people who he has played with, it was very, very consistent that you are getting a pro's pro, somebody who is going to lead from out in front, works very hard at his craft and just is an outstanding teammate."
However, general manager Andrew Berry wasn't as emphatic about Brissett, opening the door for a potential move to upgrade the roster, again per ESPN:
"We feel very good about Jacoby. No different than any other position on the roster, we will continue to evaluate our team over the course of the camp, but really pleased with Jacoby."