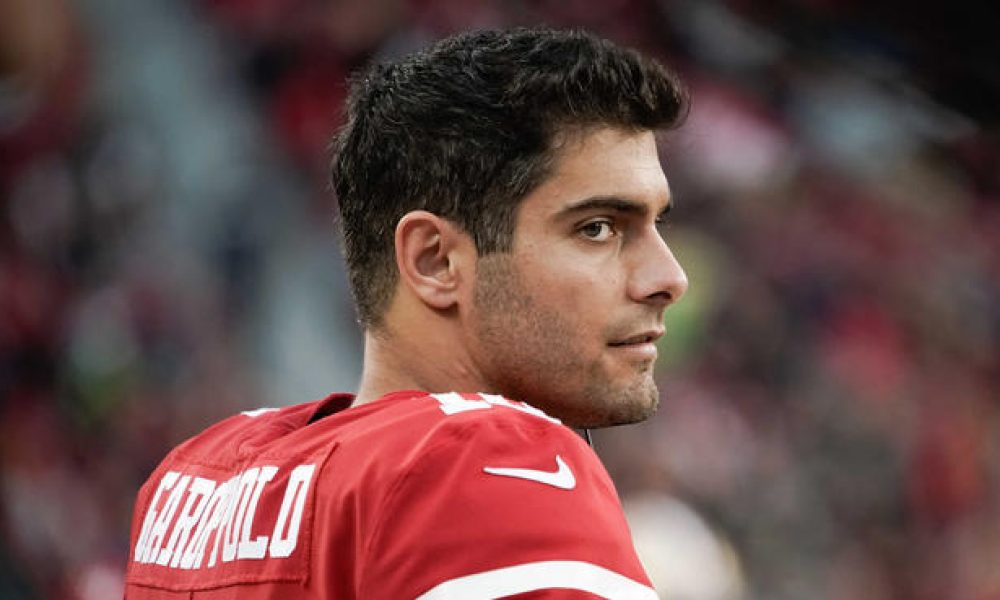 Nov 26, 2017; Santa Clara, CA, USA; San Francisco 49ers quarterback Jimmy Garoppolo (10) watches the game against the Seattle Seahawks during the fourth quarter at Levi's Stadium. Mandatory Credit: Stan Szeto-USA TODAY Sports
The San Francisco 49ers have given Jimmy Garoppolo the power to request a trade. Where does he end up? We deep dive.
4. San Francisco 49ers
This has to be put on the list. Yes, it's unlikely the Niners are going to end up with Garoppolo, but a couple things could happen. Either San Francisco general manager John Lynch doesn't like any trade package and decided to wait until some point in the season. Or, Trey Lance doesn't look good over the first few weeks of training camp, and the Niners decide to hold onto Garoppolo in an attempt to have insurance against Lance struggling and bringing down a Super Bowl-contending club.
3. The mystery injury team
Every year, a quarterback gets hurt either in training camp or preseason. The 49ers can wait this out into the coming weeks and see which team suddenly needs help. Unfortunately, someone will need to replace their starter who is dealign with either a short or long-term injury, and Garoppolo will clearly be the best option to go out and nab. The only question will be whether San Francisco can offload the salary in full.
2. Cleveland Browns
The Browns are already committed financially to both Deshaun Watson and Jacoby Brissett, but could Garoppolo be next? If Watson gets a long suspension, Cleveland might not feel comfortable putting its 2022 hopes and dreams in the hands of Brissett. While Garoppolo isn't an All-Pro, he's a quality starter who has reached the conference title game (or better) in two of the past three seasons. The Browns aren't the favorite, but they do make some sense.
1. Seattle Seahawks
Seattle  has to top the list, but again, there are some caveats. If the Seahawks want to wait until Garoppolo gets released, they can certainly do so knowing the market isn't going to be robust considering where the other 30o trade suitors are sitting with their quarterback situations. Perhaps the Seahawks are quietly happy to tank this season and win four games with Drew Lock, but if Seattle wants to win some games, Garoppolo is the clear answer.