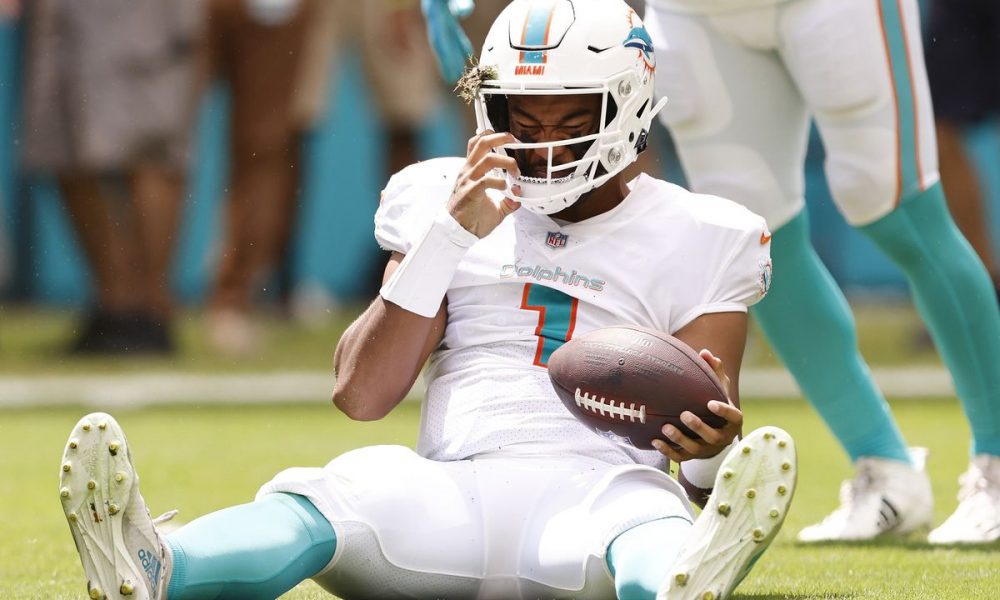 Miami Dolphins quarterback Tua Tagovailoa has been dealing with doubters ever since he was drafted in 2020.
Dolphins fans wonder whether they would have been better off drafting Justin Herbert instead. His former head coach, Brian Flores, had obvious reservations about Tua Tagovailoa. 
He was even criticized by former teammate Ryan Fitzpatrick for being limited physically in the wake of Miami's Week 1 win over the New England Patriots. As well as that, former Saints coach Sean Payton predicted Tagovailoa would eventually be benched.
Want $250 to bet on Monday Night Football?
Sign up here!
Tua Tagovailoa went some way to proving the doubters wrong by spearheading a Week 2 comeback against Baltimore.
He threw for 469 yards and six touchdown passes as Miami rallied from a three-touchdown deficit in the fourth quarter to win 42-38.
"Now maybe Tua will finally listen to me," said coach Mike McDaniel. "What I mean by that is, it's awesome to be critical of yourself. It is good. He has a high standard for himself. … The absolute worst thing could have happened in the beginning of the game, the contested ball, not really his fault on the first interception and then he starts pressing and throws it up for the second interception."
Read:
NFL Week 2 Recap – Instant Reaction And Observations
"This is huge. He stopped worrying about the last play and went and played and took his responsibility seriously to his teammates. 'I'm going to lead this team confidently.' It is what you get into sports for. It is cool for the coaching staff and him, it was coming to life. It was a moment, I think, he'll never forget and hopefully he can use it moving forward. … His teammates learned a lot about him and I think he learned something about himself."