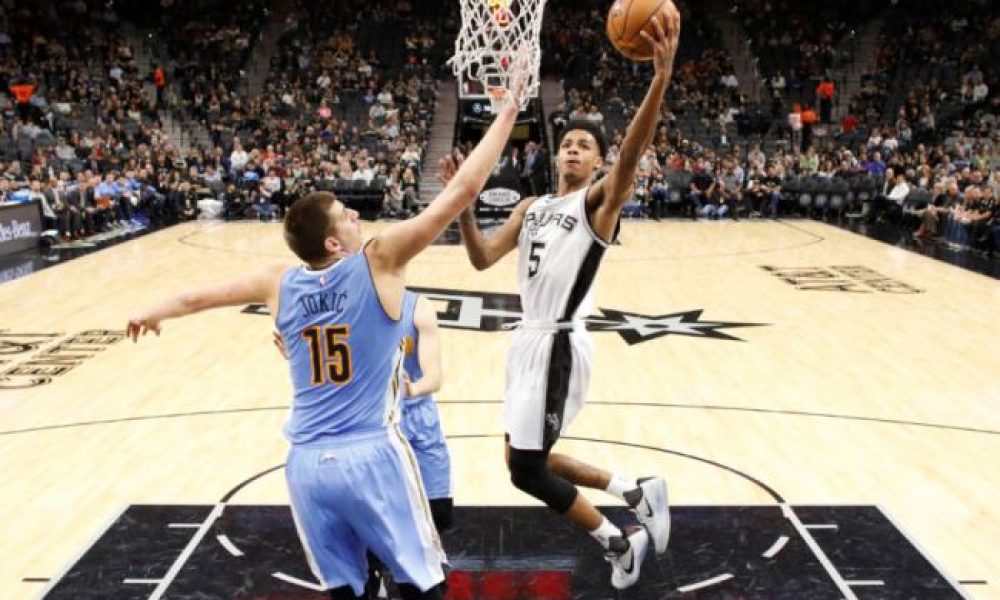 Jan 19, 2017; San Antonio, TX, USA; San Antonio Spurs point guard Dejounte Murray (5) shoots the ball as Denver Nuggets power forward Nikola Jokic (15) defends during the first half at AT&T Center. Mandatory Credit: Soobum Im-USA TODAY Sports
With the start of free agency looming ahead, the Atlanta Hawks made a big-splash move to begin their offseason.
The Hawks acquired All-Star guard Dejounte Murray from the San Antonio Spurs in exchange for forward Danilo Gallinari and three first-round picks, according to ESPN.
Atlanta is moving a 2023 first-round selection from the Charlotte Hornets along with their 2025 and 2027 first-round picks. The two teams will also swap selections in the 2026 draft.
The move gives the Hawks a bonafide backcourt with two All-Star-level talents. Murray is coming off a breakout campaign, where he averaged triple-double type numbers with a career-best 21.1 points along with 9.2 assists, and 8.3 rebounds on 46.2% shooting from the floor and 32.7% from 3-point range.
The 25-year-old has become one of the league's top young players behind his scoring prowess and defensive capability. He will have the chance to thrive playing alongside Trae Young, who is one of the league's top point guards.
The duo could become of the NBA's best backcourt duos. Murray and Young can split ball-handling duties that will give them another dynamic to their offense that they didn't previously possess.
The Spurs' willingness to move Murray likely stems from their desire to rebuild the team in the years ahead. He is in the third year of his four-year, $64 million contract which will pay him $16.5 million next season and $17.7 million in the 2023-24 campaign.
The plethora of first-round picks over the next few years will allow them to bring aboard more promising young talent.