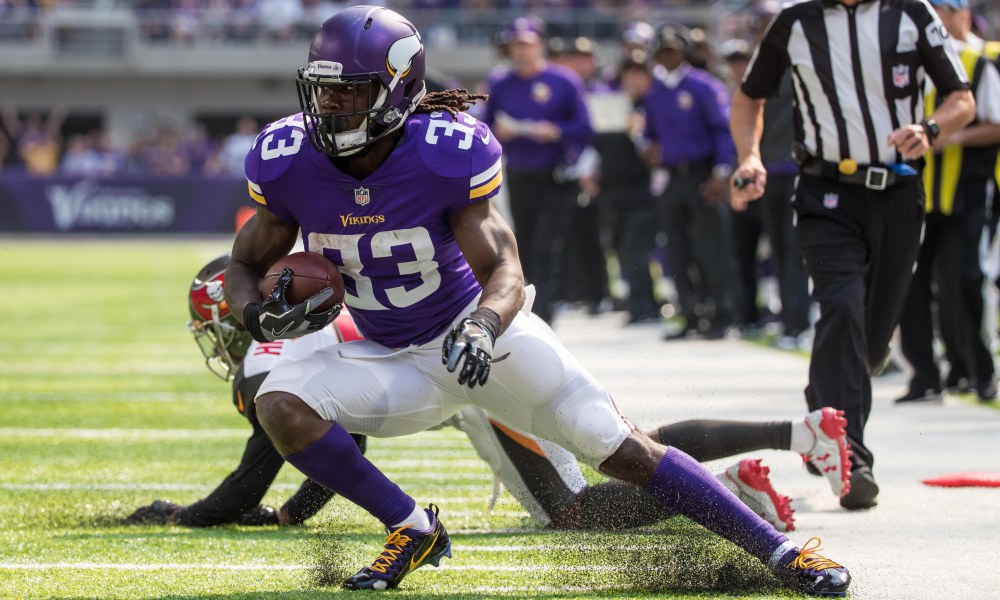 Sep 24, 2017; Minneapolis, MN, USA; Minnesota Vikings running back Dalvin Cook (33) carries the ball during the first quarter against the Tampa Bay Buccaneers at U.S. Bank Stadium. Mandatory Credit: Brace Hemmelgarn-USA TODAY Sports
After years of largely underachieving under head coach Mike Zimmer, the Minnesota Vikings are hoping for better results with Kevin O'Connell.
It's a new day for the Minnesota Vikings. But is it a different one?
Minnesota spent eight seasons with Mike Zimmer as head coach and reached the playoffs three times, twice advancing at least one round. However, despite considerable talent, the Vikings were inconsistent in their results, leading to Zimmer's dismissal after a pair of consecutive nine-loss seasons.
With Zimmer out, first-time head coach Kevin O'Connell steps to the fore after winning a Super Bowl as the offensive coordinator with the Los Angeles Rams.
O'Connell, 37, has only spent seven years in the NFL as an assistant but has risen through the ranks. Now, he gets an offense with quarterback Kirk Cousins, running back Dalvin Cook, and receivers Adam Thielen and Justin Jefferson to work with while the defense has some cornerstones to use in edge rusher Danielle Hunter, safety Harrison Smith and linebacker Eric Kendricks.
All told? O'Connell has a real roster to work with.
Additionally, the Vikings are in a favorable position. The NFC is easily the weaker of the two conferences after watching Matt Ryan and Russell Wilson leave for the AFC this offseason. In the NFC North, the Chicago Bears are in a full-blown rebuild while the Detroit Lions are improving, but still one of the poorer teams in the league.
For Minnesota, it's really a race with the Green Bay Packers in the division, which traded away star receiver Davante Adams and didn't replace him with any reliable veteran weapon.
Ultimately, whether the Vikings take a significant step forward this year comes down to the relationship between Cousins and O'Connell.
Minnesota has long had the ability to put the ball in the air and move in chunks, albeit at times short-circuited by Cousins' inability to be consistent on a weekly basis. However, Cousins is above-average by almost any metric and has two of the league's better receivers to target. Under Zimmer, the offense was archaic. That should change with O'Connell at the helm.
After years of middling performances and stunning defeats at critical times, the Vikings are hoping this year will be different after big changes were made.
We will soon find out.