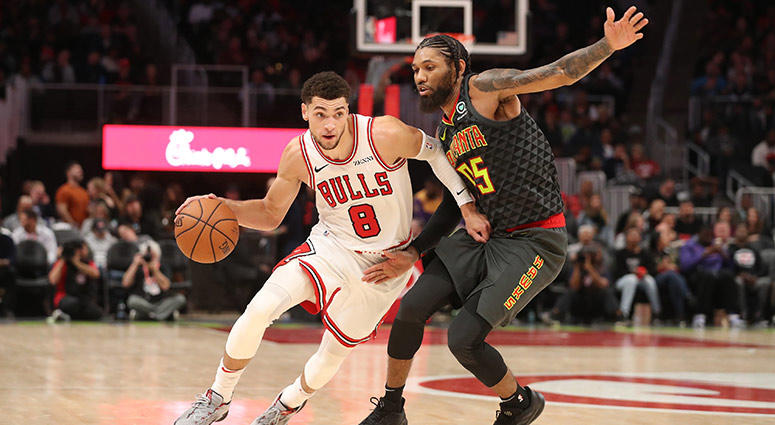 Zach LaVine says his heart is in Chicago, but that's not the only reason he decided to rejoin the Bulls.
The partnership between them, which enters its sixth season, has been beneficial for both Chicago and Zach LaVine.
Zach LaVine has been an All-Star twice since he signed his last contract in 2018. He's been rewarded appropriately as a result with a five year, $215 million extension.
In his first four seasons, the Bulls missed the playoffs. However, an overhaul which brought in the likes of DeMar DeRozan and Lonzo Ball saw Chicago qualify for the playoffs for the first time since 2017 last season.
Want $250 to bet on NBA futures?
Sign up here!
"Chicago is my home," LaVine said. "We've built something over the last — well, at least for me, I've been here for five years — and over the last two, three, built something. Being able to come back as a cornerstone piece and allowing them to get some of my insights, some of my input in constructing the roster to help me and help us win, was really big for me.
"I went into the offseason with an open mind. I laid out my goals, just like I always have," LaVine said. "Once I was able to meet with [general manager Marc Eversley and Bulls VP of basketball operations Arturas Karnisovas] and they came to me with everything that I wanted, there was no other reason for me to go outside and look at any other teams."
Read:
John Wall – 'I Really Didn't Care About Other Teams'
"Individually, [I want] to keep pushing myself to reach higher and higher things; if it isn't All-NBAs, if it isn't MVPs, team-wise, it's win a championship. I think there's nothing above that. You've heard me say individual things come with winning, and the better and better we get as a team and I keep (pushing) myself to get better as a player, I think those things can match up."