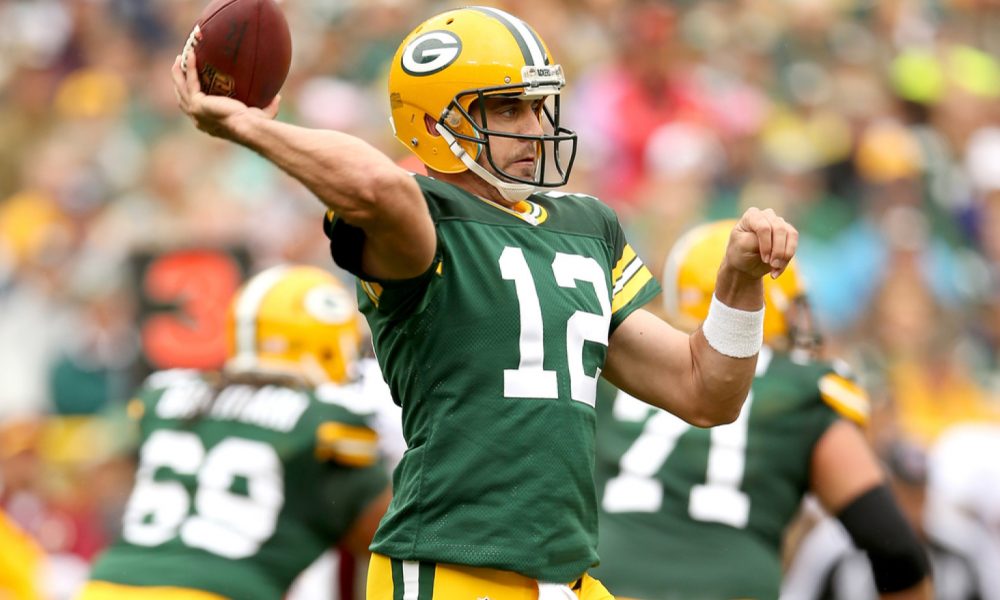 GREEN BAY, WI – SEPTEMBER 15: Aaron Rodgers #12 of the Green Bay Packers throws against the the Washington Redskins at Lambeau Field on September 15, 2013 in Green Bay, Wisconsin. (Photo by Matthew Stockman/Getty Images)
The Green Bay Packers are relying on young receivers, and this week has seen progress from a group earlier maligned by Aaron Rodgers.
Aaron Rodgers might get frustrated at times, but he knows the reality. If his Green Bay Packers are going to reach the Super Bowl, he needs his rookie receivers to be big parts of the offense.
Last week, Rodgers aired out his young teammates in public before holding a meeting, and things seem to be going better. While the two-time reigning MVP hasn't seen a snap in the preseason — and very likely won't on Thursday in the exhibition finale against the Kansas City Chiefs — practices are going better.
On Monday, Rodgers talked about his efforts to help second-round pick Christian Watson get caught up on what he's missed, having been on the PUP list for some of training camp. Per ESPN:
"Yesterday we did kind of a spur-of-the-moment adjustment in a period, and I told him what to do in the huddle, and it's something he's never done before, and he went out and did it perfect. It's those little things like that that start to gain that trust and that confidence and gets you excited about things.

"Now (Romeo) Doubs has done a lot of really nice things, but I think the standard for him is not going to be maybe the standard for a normal rookie we've had here in the past, especially in the past four or five years, because he's going to be expected to play based on his performance so far in camp. So we've got to hold him to a standard that I know he's capable of reaching. But he cares about it, he's a great kid, he's made some instinctual plays that you just can't really coach."
Between Watson and Doubs — who has showcased his talent this summer — the Packers have high hopes. They also understand the task at hand, which is mitigating the loss of All-Pro receiver Davante Adams, who was traded in March to the Las Vegas Raiders for first- and second-round picks, the latter becoming Watson.
Green Bay remains the favorite in the NFC North. If the Packers can get Rodgers on the same page with his neophyte receivers, they might finally conquer January and play into February for the first time in more than a decade.