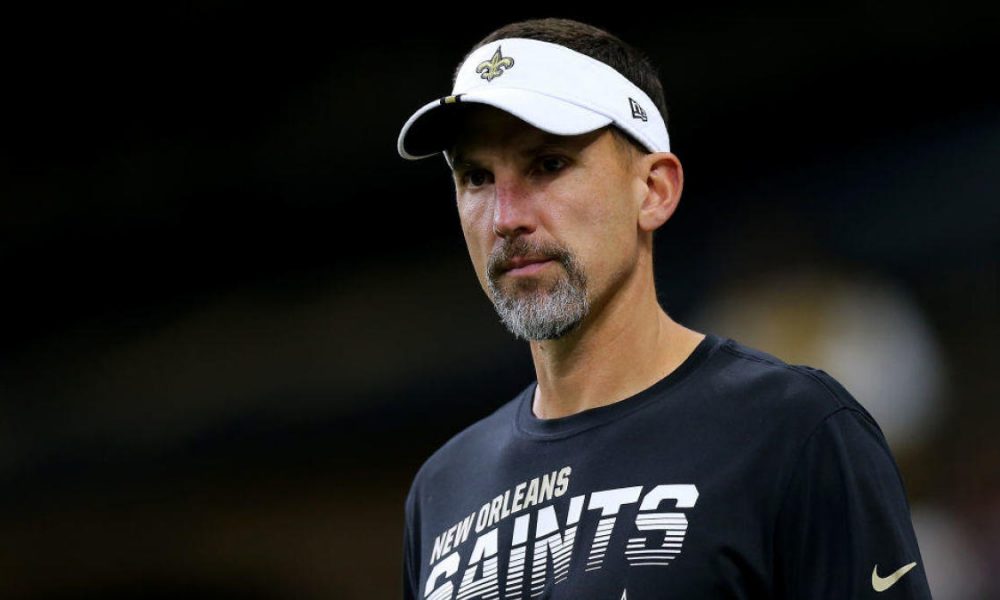 NEW ORLEANS, LOUISIANA – AUGUST 29: Defensive coordinator Dennis Allen of the New Orleans Saints reacts before an NFL preseason game against the Miami Dolphins at the Mercedes Benz Superdome on August 29, 2019 in New Orleans, Louisiana. (Photo by Jonathan Bachman/Getty Images)
After missing the postseason in 2021, these five NFC teams might have what it takes to get back into the playoffs this winter.
5. Detroit Lions
No, you aren't dreaming. The Lions are a list about the playoffs. That said, this exercise is much tougher for the NFC compared to the much stronger AFC, so Detroit gets the final nod over other teams such as the Atlanta Falcons, Carolina Panthers, Seattle Seahawks and Chicago Bears. Look, the Lions have a promising head coach in Dan Campbell, exciting rookies in edge rusher Aidan Hutchinson and receiver Jameson Williams, and a strong front. It's not impossible.
4. New York Giants
The Giants are going to go as far as the new tandem of head coach Brian Daboll and fourth-year quarterback Daniel Jones can take them. The defense is clearly going to be a work in progress throughout the season, but the offense has real talent in receivers Darius Slayton, Kadarius Toney, Kenny Golladay and Sterling Shepard, along with running back Saquon Barkley. If Daboll can get Jones to make more plays without increasing his turnovers, New York is a fun watch.
3. Washington Commanders
Now we get into the teams who aren't such stretches. The Commanders had a nice offseason, upgrading at quarterback by trading for Carson Wentz, while also adding first-round receiver Jahar Dotson out of Penn State. If Washington's defense can regain its 2020 form, this is a group that can contend for the NFC East. The big questions are whether the aforementioned defense is more '20 than '21, and if Wentz can avoid costing Washington games on a regular basis.
2. New Orleans Saints
The Saints shouldn't be overlooked. They aren't likely to win the NFC South with the Tampa Bay Buccaneers looming over them, but New Orleans has talent on both sides of the ball. This offseason, general manager Mickey Loomis added receivers Jarvis Landry and rookie Chris Olave, tackle Trevor Penning, safety Tyrann Mathieu and others to a team getting receiver Michael Thomas and quarterback Jameis Winston back from injury.
1. Minnesota Vikings
For the Vikings, a new start. After eight years under the guiding hand of head coach Mike Zimmer, the Vikings went a new direction with former Los Angeles Rams offensive coordinator Kevin O'Connell. The result should be a more explosive offense with receivers Justin Jefferson and Adam Thielen, running back Dalvin Cook and quarterback Kirk Cousins. In a weak NFC North, Minnesota could make noise and perhaps challenge the Green Bay Packers for the top spot.