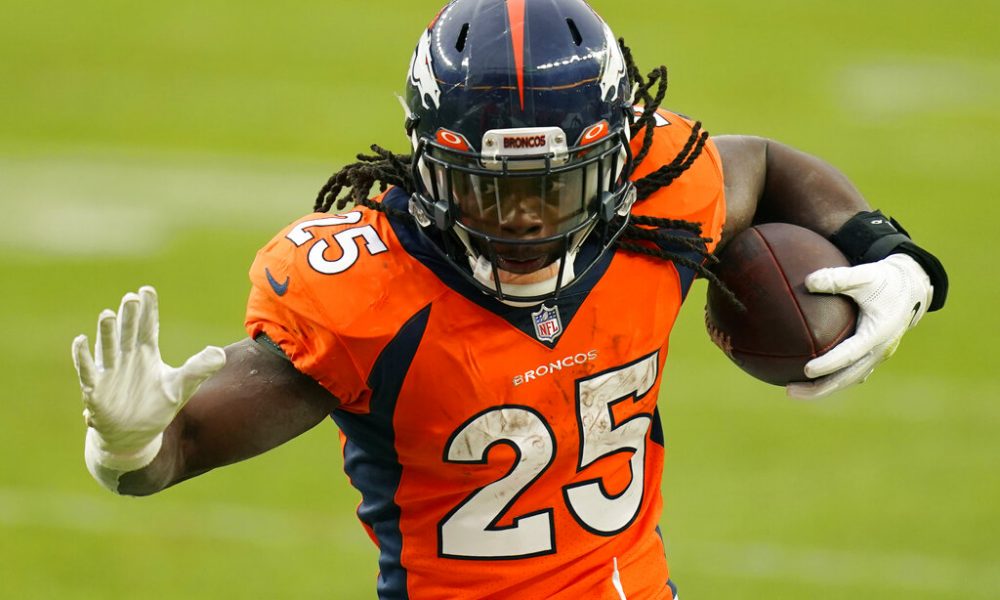 Denver Broncos running back Melvin Gordon (25) runs against the Las Vegas Raiders during the first half of an NFL football game, Sunday, Jan. 3, 2021, in Denver. (AP Photo/Jack Dempsey)
Former Pro Bowl running back Melvin Gordon is returning to the Denver Broncos for his third season after inking a one-year, $2.5 million.
Gordon is readying to help lift the Broncos toward the playoffs but doesn't envision a reduced role in the backfield behind Javonte Williams. The 29-year-old voiced that he doesn't plan on backing down from proving he deserves a significant role in the offensive game plan.
"I told [Broncos general manager George Paton] when I was at the [negotiating] table, I'm not going to lay down, I'm not going to lay down," Gordon said via ESPN. " … I've always got that mindset that I've got to go get it every year.

"I know a lot of people want me to take the backseat and I get it," Gordon added. "It's been like that for a while, it was like that with the Chargers — everybody wanted Austin [Ekeler] to start. I just come out here and do my thing. Thanks for the motivation everybody, I appreciate y'all."
Williams is coming off an impressive rookie campaign, where he proved that he's a highly effective factor in the running game. He and Gordon both recorded 203 carries while posting 903 and 918 rushing yards respectively.
Gordon struggled with injuries late in the regular season but missed only one game. The Broncos don't appear to be in a rushing to go to a workhorse option in the backfield but will embrace having two bonafide options.
Want $250 to bet on NBA futures?
Sign up here!
Williams may have the early leg up for the starting job, but that will come with stiff competition from Gordon.