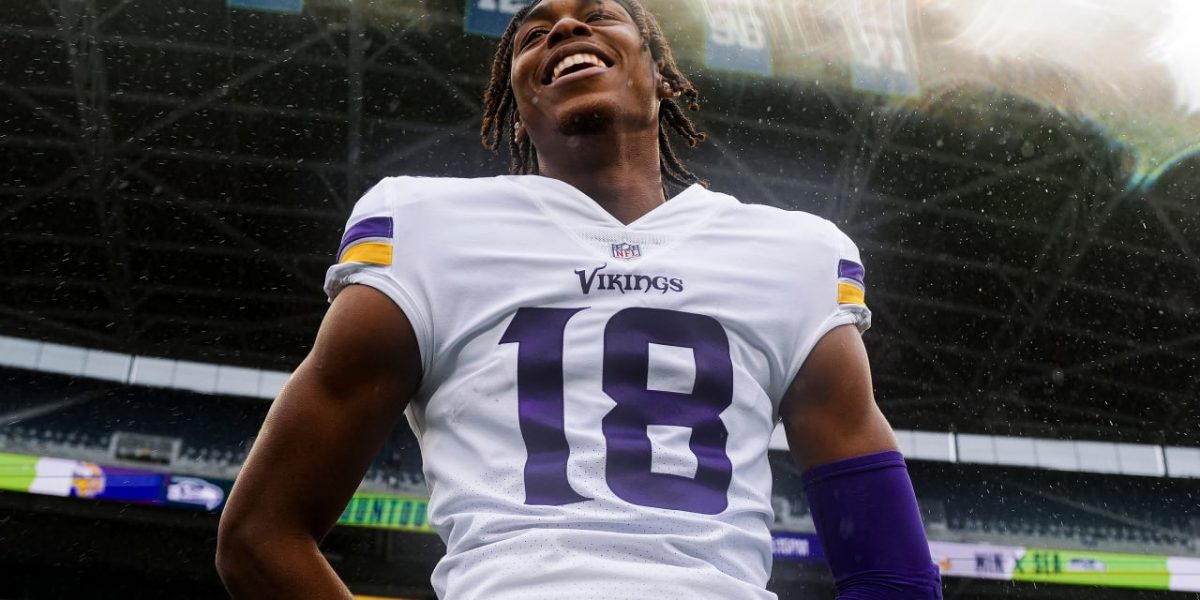 Minnesota Vikings WR Justin Jefferson thinks new head coach Kevin O' Connell will help him become a Hall of Famer.
In his first two NFL seasons, Justin Jefferson has played as well as anyone else in the league. Since 2020, Justin Jefferson leads the NFL with 3,016 yards. That's the most receiving yards by a player in his first two seasons in league history.
Jefferson is the first player to gave 1,400 plus yards in each of his first two seasons. That means he's on track for the 1,148 yards he needs next year to set the record for the most yards by a player in his first three seasons.
Want $250 to bet on NFL futures?
Sign up here!
As well as that, Jefferson took 27.5% of his teams targets with 15.4 yards per reception. Only Davante Adams and Stefon Diggs had a higher percentage.
Now with O' Connell implementing a more pass-heavy system, Jefferson could produce even more.
"Our offensive style, it's not a run-first offense anymore," Jefferson said. "Just us being able to put different people in different positions and distribute the ball, really. I'm so excited in this offense. Us just being in OTAs, learning the plays, going through it with our defense, and stuff.
"We're all excited. We're all happy to have (O'Connell). It's definitely a different vibe, a different connection in the building with him there. We're just excited to start it up, really. We want to see how this season really turns out for us."
Read:
Kyrie Irving Now Plans To Stay With Nets
"I mean, I want to accomplish so much," Jefferson said on NFL Total Access. "It's an endless list that I want to accomplish. At the end of the day, I want to be a Hall of Famer. So, in order to reach that, that position is so much more that I have to accomplish, so much more that I have to set for myself to better myself and really to learn. I just can't wait to really just see how far I can really go. This is just the start of my career, and there's just so much more I have to learn, so much more I have to do for myself to really get on that platform of being a Hall of Famer."