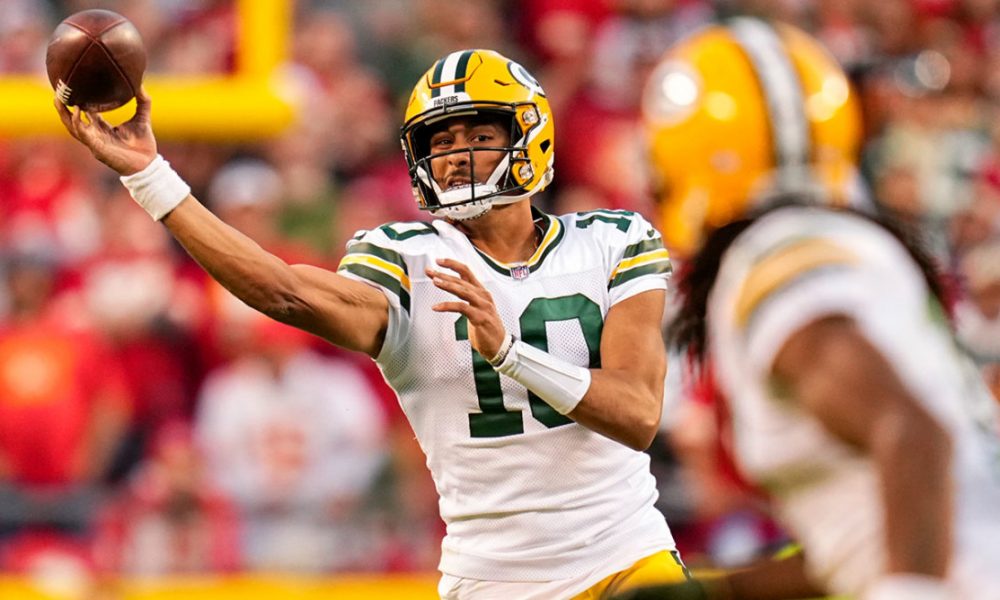 Green Bay Packers backup quarterback Jordan Love has enhanced his game this preseason, according to head coach Matt La Fleur.
Jordan Love hasn't put up eye-catching numbers, but it's important to remember the teams he's been getting reps with.
The third year quarterback has been navigating the field alongside backups and young receivers. Jordan Love struggled initially in Thursday's loss to the Chiefs, but impressed his coach sufficiently.
Want $250 to bet on NFL futures?
Sign up here!
"I think early on there wasn't really a lot open for him and he was under some duress," LaFleur said. "The one thing I loved about it is, when the game doesn't start out the way you it to, how do you respond? I thought he showed a lot of resiliency, and I think that just shows the maturation process that he has done over the last couple years. 
"There was a lot of good things out there. I always look at the numbers at the end of it and I am like that doesn't make sense. He did a lot of good things, but we will take a look at the tape. I am sure there is always something to clean up, but all in all, I thought Jordan did a lot of good things out there."
Read:
Seahawks Decide To Make Geno Smith Starting QB For Week 1
The decision that led to his interception in the game was questionable. However, La Fleur says it was the right decision to go for it.
"I will have to go back and look at it, but when I watched it live, I was not unhappy with the decision at all," the coach said. "Again, I have to go see how the safety was playing, but I was looking at the same place he was. I thought Alize (Mack) had a step on his man and unfortunately the strong safety was able to come across Alize and make the pick."