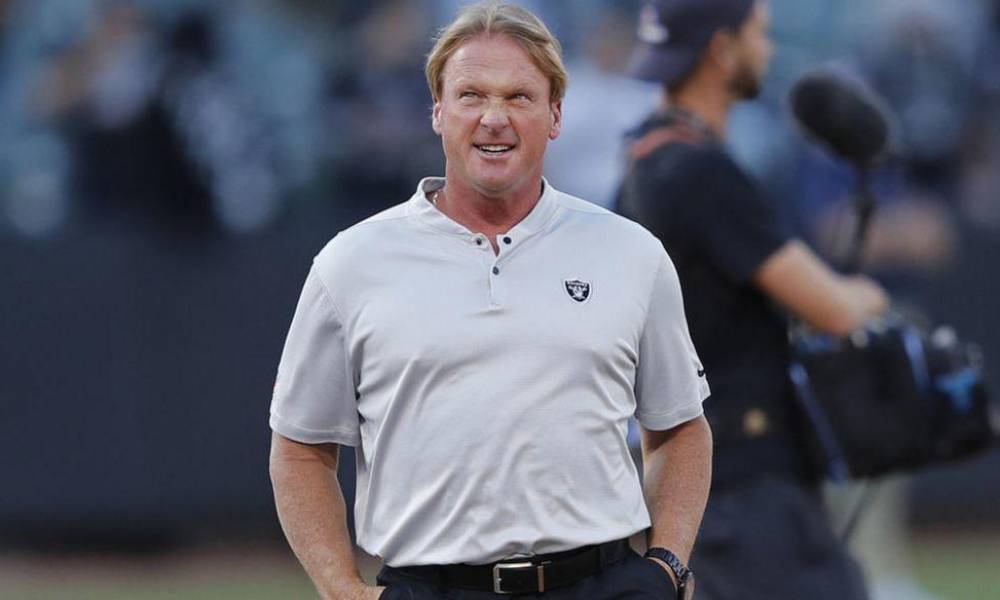 Former Las Vegas Raiders head coach Jon Gruden has taken a step towards attempting to rehabilitate his reputation.
Jon Gruden signed a ten year, $100 million contract with the Raiders in 2018. Last October resigned from the Raiders following an email scandal. 
The leaked Jon Gruden emails contained the Big 3: racist language, homophobic language and mysogynistic language.
They came to light as a result of an NFL investigation into workplace conditions at the Washington Football team.
Want $250 to bet on NFL futures?
Sign up here!
Gruden addressed the issue publicly for the first time in Arkansas on Tuesday.
"I'm ashamed about what has come about in these emails, and I'll make no excuses for it," he said. "It's shameful. But, I am a good person. I believe that. I go to church. I've been married for 31 years. I've got three great boys. I still love football. I've made some mistakes. But I don't think anybody in here hasn't. And I just ask for forgiveness and, hopefully, I get another shot."
Read:
Jimmy Garoppolo Will Remain With 49ers For At Least One More Season
"I get a choked up, you know, because there's a lot of misunderstanding out there right now," he said. "What you read, what you hear, what you watch on TV. Hell, I worked at ESPN for nine years. I worked hard at that job. I don't even want to watch the channel anymore because I don't believe everything is true. And I know a lot of it is just trying to get people to watch. But I think we've got to get back to reality."
You never know in the NFL, but it's going to be tough for Gruden to return to work in football. However, his public comments on the issue certainly suggest he thinks there's a chance.