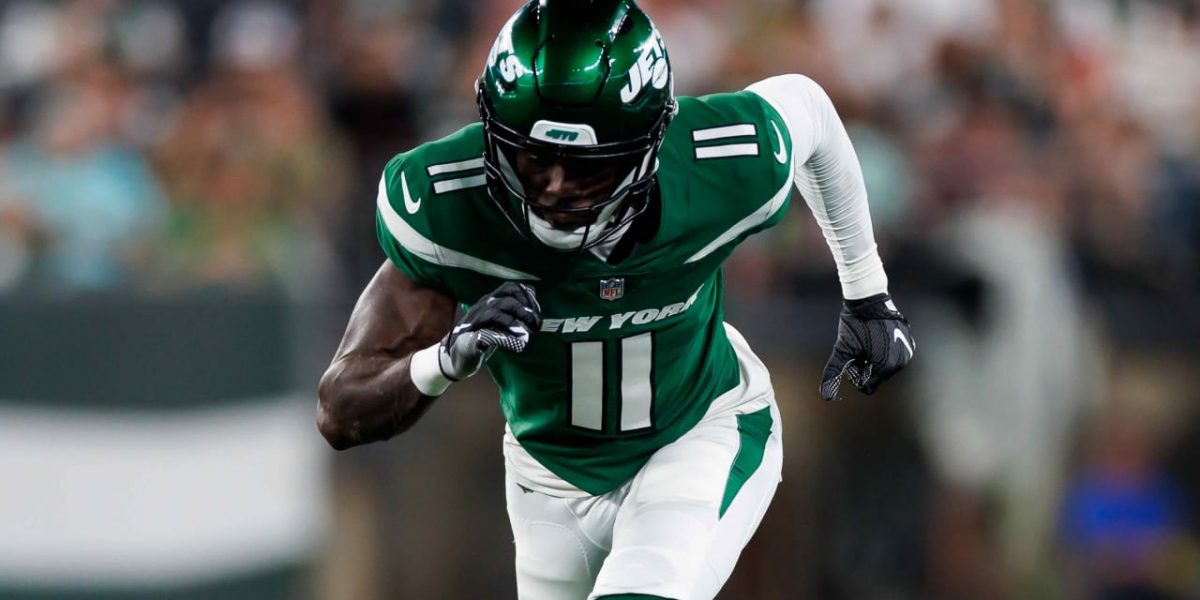 New York Jets WR Denzel Mims is disappointed not to have played a single rep with the starters over preseason.
It's a situation that led to Denzel Mims requesting a trade last week. According to GM Joe Douglas, the franchise took calls on him.
However, the offers received were not "the right value for a player of his talent and ability."
The Jets might value Denzel Mims, but not enough to start him. He's currently stuck behind Corey Davis, Elijah Moore and Garett Wilson in the depth chart.
Want $250 to bet on NFL futures?
Sign up here!
Mims feels like he is a starting receiver, but has no hope of convincing the Jets coaches of this.
"I feel like I already pretty much [proved it], from OTAs until now," he said. "I mean, they're pretty set on who they want.
"It feels like, yeah, I feel like [the coaches] have made their mind up, honestly," Mims said. "But I feel like I can change their mind on that. I feel like I've been doing that. Their minds are pretty made up, though.
"Of course I'm going to be frustrated that I'm not playing with the starters, but I've got to continue to work," he said. 
Read:
Vikings Acquire Wide Receiver Jalen Reagor In Trade With Eagles
"That's tough, not being out there with the 1s and being able to show it," he said. "I feel like I deserve to be with the 1s."
"I wouldn't say he wants to be somewhere else; he wants to play," Douglas said. "He wants to start. Denzel is very confident. He has voiced that, that he wants to be a starter. Ultimately, you want a team full of guys that feel like they should be the No. 1 guy."