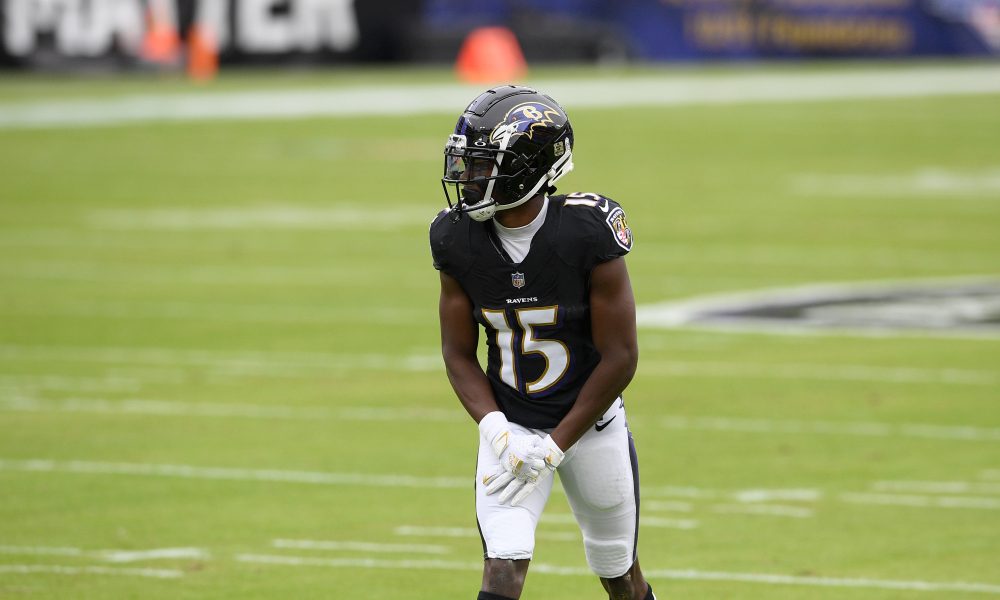 Baltimore Ravens wide receiver Marquise Brown (15) lines up during the first half of an NFL football game against the Tennessee Titans, Sunday, Nov. 22, 2020, in Baltimore. (AP Photo/Nick Wass)
The Arizona Cardinals are trying to get back to the playoffs and this time, go deep in them. Hollywood Brown, though, is a big key early.
When the Arizona Cardinals acquired Hollywood Brown, they undoubtedly thought of a few things. One, they'd like to see him operate in the fashion in which he did at the University of Oklahoma, when Kyler Murray was throwing him passes. Two, Arizona had to be thinking about star receiver DeAndre Hopkins and his looming six-game suspension to start the 2022 NFL season.
In short, the Cardinals are banking on Brown to help them survive a tough stretch to start the campaign before becoming a dynamic second option in head coach Kliff Kingsbury's offense.
For Brown, it's a new start. After spending the first three years of his career with the Baltimore Ravens, the former first-round draft choice was sent to Arizona in April for a first-round pick. The Cardinals have the benefit of knowing he'll fit in with their quarterback in Murray, who had an electrifying combination with Brown back in their Big 12 days. During Murray's final season of 2018 in Norman, he threw for 4,361 yards and 42 touchdowns, with Brown accounting for 1,318 yards and 10 scores.
On Wednesday, Murray talked to the media about that connection, via NFL.com:
"I think (chemistry) is already built. It's the NFL, we still have to work on it. What we did, we did in the past. But there is a natural connection. It's weird because we talk about it but we haven't been on the field together in a long time."
Murray will need to rely on Brown early, when the Cardinals are without Hopkins and play one of the league's hardest schedules. Arizona will open at home with the Kansas City Chiefs before visiting the Las Vegas Raiders, and then returning to take on the defending-champion Los Angeles Rams.
For Brown, the confidence should be there. Not only does he have a relationship with his new quarterback dating back more than five years, he's also improved each pro season. As a rookie, Brown caught 46 passes for 584 yards. In 2020, he went for 58 receptions and 769 yards. Last year, he topped the 1,000-yard mark with 1,008 yards on 91 catches.
Additionally, Brown should continue to ascend in a system geared more towards throwing the ball, after playing in Baltimore's run-heavy scheme to this point.
For the Cardinals, Brown figures to be a long-term piece, but they need him every bit as much short-term.