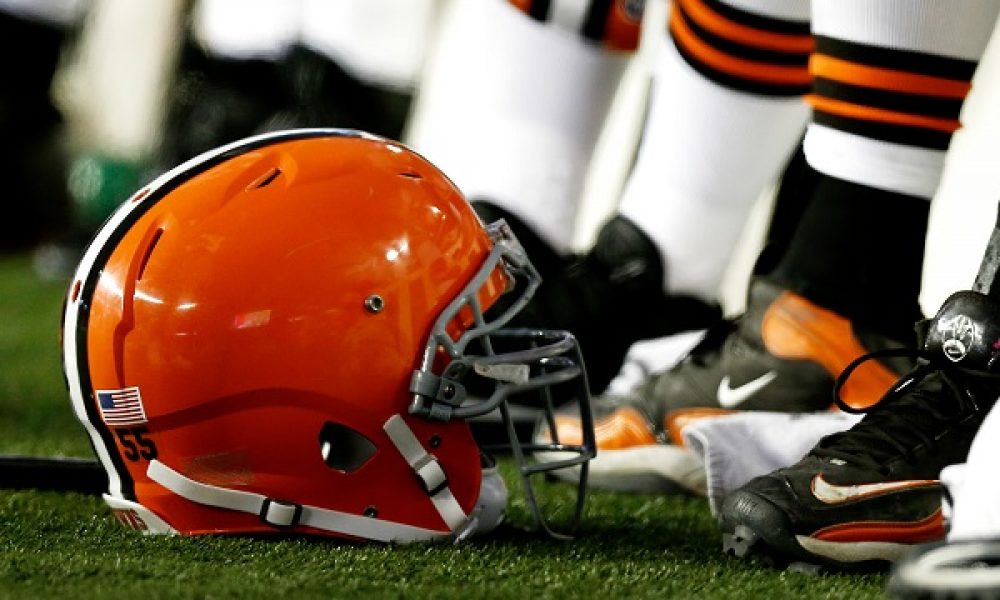 Dec 8, 2013; Foxborough, MA, USA; A Cleveland Browns helmet sits on the sidelines during the fourth quarter of New England's 27-26 win at Gillette Stadium. Mandatory Credit: Winslow Townson-USA TODAY Sports
Baker Mayfield obviously wants out of the Cleveland Browns, but it won't be easy for his current team to get any real value.
Once the Cleveland Browns traded for Deshaun Watson last month, Baker Mayfield had no place on the team.
The problem for Cleveland and Mayfield? The other 31 NFL teams are also aware of that fact.
Only two weeks away from the 2022 NFL Draft, Mayfield remains on Cleveland with no future. Entering the fifth-year option of his rookie deal, the former No. 1 overall pick is waiting to be dealt away, but for Browns general manager Andrew Berry, what price must be paid for Mayfield to go?
As for Mayfield himself, he's less concerned about Cleveland's return and more annoyed at how his situation was handled. This week, Mayfield aired out his thoughts during an interview on the Ya Never Know Podcast, and was brutally honest. Via NFL.com:
"I feel disrespected. One-hundred percent because I was told one thing and they completely did another. That's what I'm in the middle of right now. I got my taste of it because I've had four different head coaches in four years, a bunch of different coordinators.
"Talk about the highs? They always come back. They always come back. But I've had great times my rookie year. I didn't start in the beginning. I came in and got to have fun in the back half of the year. 2019 sucked. 2020 was great, made the playoffs. 2021 was miserable."
While Mayfield's angst is clear and understandable, the pressing question is what will the Browns accept for him, and who will offer anything?
Looking around the league, there are very few teams who need quarterbacks. The carousel has spun furiously this offseason, with the Indianapolis Colts (Matt Ryan), Denver Broncos (Russell Wilson), Washington Commanders (Carson Wentz), Pittsburgh Steelers (Mitchell Trubisky) and Browns (Watson) either trading for or signing new starters.
This leaves the Seattle Seahawks, Carolina Panthers and Atlanta Falcons as the only real candidates, and Atlanta is likely content with Marcus Mariota if it doesn't land a first-round quarterback in the upcoming draft. Both the Panthers and Seahawks could make a deal work financially, but Carolina is short on picks without choices in the second and third rounds.
Conversely, Seattle is flush with picks following the Wilson deal, but would it give up more than a Day 3 choice for Mayfield, and if not, does Berry wait things out into the summer when an inevitable injury crops up in training camp somewhere?
For Mayfield, his wanting to escape Cleveland is certain, but his future is anything but.