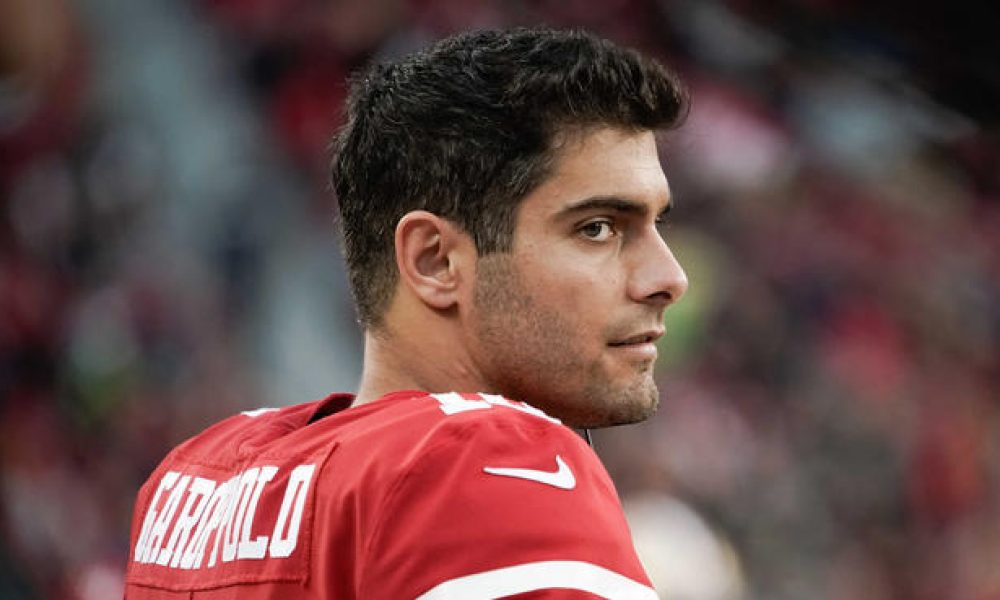 Nov 26, 2017; Santa Clara, CA, USA; San Francisco 49ers quarterback Jimmy Garoppolo (10) watches the game against the Seattle Seahawks during the fourth quarter at Levi's Stadium. Mandatory Credit: Stan Szeto-USA TODAY Sports
The San Francisco 49ers would love to move Jimmy Garoppolo, but right now, they're trying to make you believe he could stay.
Leverage is an important thing in business. And in the NFL, it's king.
For the San Francisco 49ers, they're trying to give the impression they're willing to keep quarterback Jimmy Garoppolo when the rosters are trimmed to 53 men in the coming weeks. If they do, they can still move Garoppolo's contract before Sept. 10 and not owe him only $1.4 million, instead of his current $26.95 million cap hit. Yet with each passing day, the staring contest between the Niners and the other 31 clubs intensifies.
On Friday, team owner Jed York spoke with Tim Kawakami of The Athletic and touched on a litany of topics, including his feeling that San Francisco could hold onto Garoppolo through the season if necessary.
"I've said this before, you can't have enough good quarterbacks and good football players. I'm not going to get into roster discussions and what John and Kyle want to do. But I will support them in sort of anything that they want to make this team as good as it can possibly be.

"I watched it with Joe (Montana) and Steve (Young) and I realize the salary cap is different today than having no salary cap. But we've said it before: We're happy to keep Jimmy. We're happy to have him on the roster. And if that's the case, then that's the case."
At 30 years old, Garoppolo is being pushed aside by the 49ers for their 2021 first-round pick, Trey Lance. With that decision, San Francisco general manager John Lynch is hoping to move his veteran signal-caller for a draft pick, but unless there are preseason injuries or the Cleveland Browns decide to call, Lynch could be without a suitor.
If the Niners eventually release Garoppolo, he'll have suitors as a backup and eventually, if he waits long enough, as a starter. Last season, Garoppolo threw for 20 touchdowns and 3,810 yards, helping San Francisco reach the NFC title game. In 2019, the 49ers earned a Super Bowl berth with Garoppolo setting career-highs in passing yards (3,978) and touchdown tosses (27).
For now, York and San Francisco will play it cool, stating their happiness if Garoppolo is around come Week 1. Of course, that means the reality of paying a team-high cap number to a player the Niners are hoping doesn't take a single snap this year.
Unfortunately for San Francisco, that's everybody else's leverage.