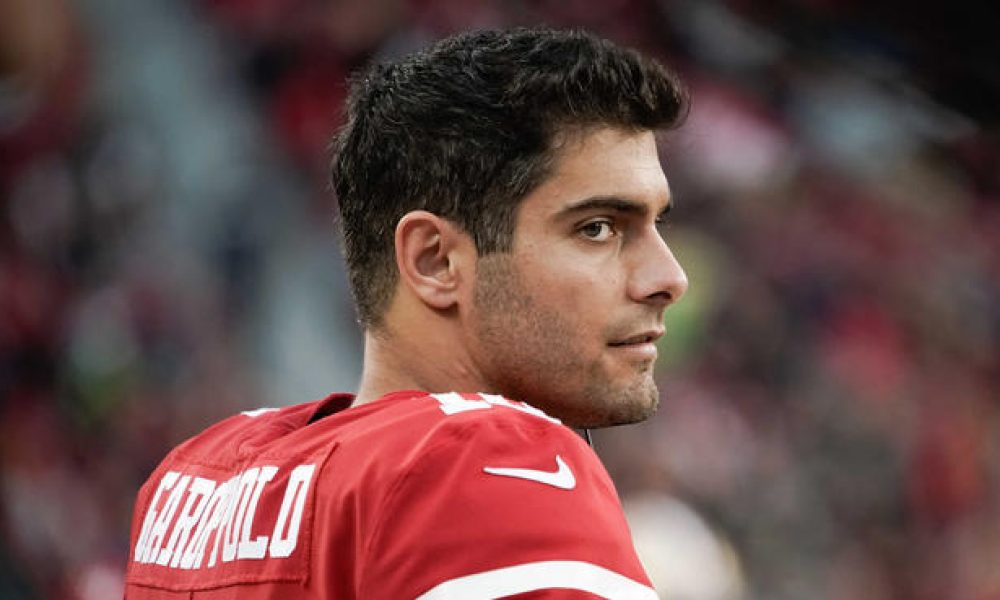 Nov 26, 2017; Santa Clara, CA, USA; San Francisco 49ers quarterback Jimmy Garoppolo (10) watches the game against the Seattle Seahawks during the fourth quarter at Levi's Stadium. Mandatory Credit: Stan Szeto-USA TODAY Sports
By retaining quarterback Jimmy Garoppolo on an adjusted contract, the San Francisco 49ers are making things very interesting early on.
Jimmy Garoppolo won't be the starting quarterback for the San Francisco 49ers. But he's no routine backup, either.
On Monday, Garoppolo agreed to a restructured contract. The deal saw his cap hit drop from $26.9 million to a more reasonable $8.9 million, paying him handsomely to stand on the sideline and support second-year quarterback Trey Lance. The move came as a shock to many, including 49ers head coach Kyle Shanahan. Per ESPN:
"The chances were, to me, it seemed slim to none. I remember the first week of training camp me saying to Jimmy like, 'Hey, if you don't like any of these opportunities, if you don't go to the place you want, you can't get the contract that you want, we would love to have you here as a backup in that deal.' I want you to know that we feel that way but I also think there's no way you're not gonna get something as this goes throughout training camp."
While Garoppolo is certainly backing Lance up to begin the season, his presence complicates matters. For one thing, the veteran has reached two NFC title games over the past three years, including a Super Bowl. The Niners were seven minutes away and leading by 10 points in said Super Bowl before things went sideways against the Kansas City Chiefs.
Point being? Garoppolo isn't the ideal quarterback, but he wins plenty of games, and has done so for his current team. His teammates know he can do it. So do his coaches, and those in the front office.
So if Lance falters at any point during the season — especially early when he has no track record of success in pro football — how long is the leash? The Niners will undoubtedly say this is Lance's job no matter what, but that's hogwash. This is the NFL. Say it's Lance's job if the 49ers are 4-4 and the youngster is struggling badly. Is Shanahan really going to make 52 other players suffer while having the NFL's best backup who has enjoyed success on his team sit there? Unlikely.
For now? Things are good. The 49ers are deep at the sport's paramount position. Fantastic.
But if Lance struggles? It could get very messy in San Francisco.