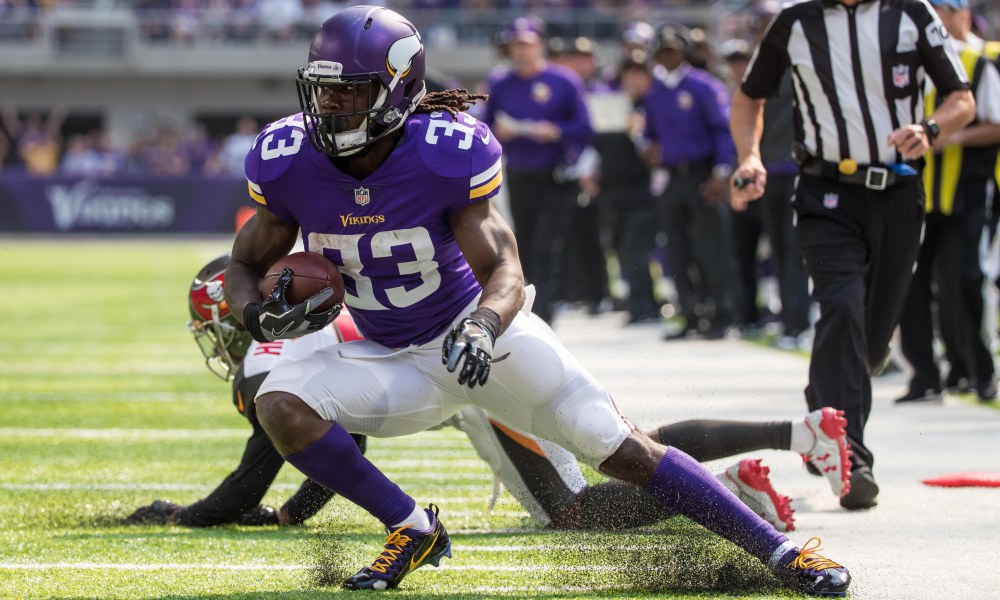 Sep 24, 2017; Minneapolis, MN, USA; Minnesota Vikings running back Dalvin Cook (33) carries the ball during the first quarter against the Tampa Bay Buccaneers at U.S. Bank Stadium. Mandatory Credit: Brace Hemmelgarn-USA TODAY Sports
Getting ready for the 2022 NFL season, these five non-playoff teams from a year ago are worth watching with improved (or healthier) rosters.
5. Jacksonville Jaguars
Jacksonville has had the No. 1 overall pick each of the past two seasons, but the Jaguars have upgraded both on and off the field in 2022. For starters, the hiring of head coach Doug Pederson to replace Urban Meyer is significant. Pederson is a Super Bowl-winning coach, and Meyer… is not. Also, Jacksonville spent more than any other team in free agency, and while the Jags overspent in some cases, the players are all solid additions.
4. Indianapolis Colts
Staying in the AFC South, Indianapolis is trying to get back into the playoffs after missing last year with two crushing losses at the end of the 2021 regular season. The Colts traded away quarterback Carson Wentz to the Washington Commanders before bringing in veteran Matt Ryan for a third-round pick. Ryan should upgrade the offense while the defense added safety Rodney McLeod and Stephon Gilmore. Indy has a real shot to win the division and make noise in January.
3. Minnesota Vikings
Onto the NFC, and a team that has underachieved annually. With former head coach Mike Zimmer out, Minnesota is turning to a first-timer at the helm in former Los Angeles Rams offensive coordinator Kevin O'Connell. The novice inherits a good roster with quarterback Kirk Cousins, running back Dalvin Cook and receivers Adam Thielen and Justin Jefferson, along with multiple defensive All-Pros. Factor in a weak conference, and the Vikings are interesting.
2. New Orleans Saints
Very few people are taking the Saints to be a fun team in the NFC, but look at the roster. New Orleans should have one of the bests defenses in the league, bolstering the safety position with the additions of Marcus Maye and Tyrann Mathieu. The offense also got much-needed new blood with receivers Chris Olave and Jarvis Landry, giving quarterback Jameis Winston better targets (including Michael Thomas, who didn't play a snap in 2021). New Orleans should challenge for a wild card berth, at the minimum.
1. Baltimore Ravens
Do the Ravens qualify as a sleeper? Whatever, they do now. Baltimore finished last in the AFC North last season, but won eight games despite an unbelievable amount of injuries. The Ravens are stacked with talent on defense, have former MVP Lamar Jackson at quarterback, a good offensive line and an All-Pro tight end in Mark Andrews.  While the division won't be easy with Joe Burrow and the Cincinnati Bengals trying to win the crown again, Baltimore is a legit contender.